About Pastor Kathaleen
Pastor Kathaleen is an Ordained/Licensed Minister and Messianic Jew. As an international speaker, author, chaplain and pastor, she inspires and imparts Mega Faith that nothing is impossible with G-d.
Having received her calling through World Harvest Ministers Network by the laying on of hands and impartation of Dr. Lester Sumrall. Together with her husband Kenneth they have written, recorded and produced 8 Gospel Music CD's. Kathaleen's CD's entitled " A Mature Bride" and "A Prepared Bride" include prophetic words & prophetic music. Many have experienced emotional healing while listening to these powerful CD's. (For more information about the Prophetic Music ministry of Living Through Him Ministries, please visit livingthroughhim.com)
Currently Pastor Kathaleen is serving as Vice-President & Chief Chaplain of Healthcare Christian Fellowship, Co-Leading the Volunteer Chaplaincy programs, with a mandate to reach North America & Canada - training, equipping & releasing chaplains into the fullness of their calling. A calling to bring salvation, Healing of the sick and compassion back into our Healthcare systems. Also Kathaleen served as the Spiritual Care Director at Detroit Hope Hospital and Henry Ford Macomb Hospital as contract chaplain.
Together with her husband they have hosted 3 radio broadcasts in the metro Detroit area. They also serve as the Lead Pastor's of Living Through Him Ministries Inc. in Detroit Michigan. Pastor Kathaleen presses towards the mark of her calling, being under girded with a degree in Biblical Studies and 5 units of Clinical Pastoral Education (CPE) with Wayne State Accreditation, and nineteen years of experience in individual, family and pastoral care ministry.
Pastor Kathaleen lives in Rochester Hills Michigan with her husband Rev. Kenneth Wuopio, they have two adult children and three grandsons.
---
Join us for Worship Services
CLICK HERE TO SEE OUR SCHEDULE OR
call Pastor Kathaleen or Pastor Danny at 586.822.4474
---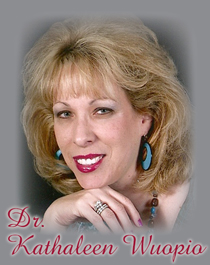 Pastor Kathaleen Wuopio
Pastor Kathaleen has trained over 2000 Volunteer Chaplains in the Detroit/Metro area, her burning desire is to prepare and equip an End-Time Army of believers to expand the Kingdom of God, Each One Walking Out Their God-Given Destiny and Calling! As a gifted teacher & Author, Pastor Kathaleen would love to work with your Church, Ministry or Business, she is biblically sound, transparent and a welcome addition to any platform.
See Pastor Kathaleen's Itinerary